The primary purposes of a retaining wall are to prevent erosion and to increase and enhance the usable space on a property. Every retaining wall is under constant pressure, so designing and building the wall correctly is vital. At BedRock Siteworks, it's how we do the bracing for retaining walls that makes the difference. We back fill with stone and a drainpipe, and then we cross-brace the wall. This process gives the wall extra strength, carries water away, and lengthens the useful life of the wall.
Various types of retaining walls cam be built by Bedrock Siteworks: Redi-rock walls, poured concrete walls, block walls, and treated timber walls.
Redi-rock Retaining Walls
A Redi-rock gravity retaining wall utilized the forces of gravity to keep the wall in place and without movement over time. The lower blocks in the wall are larger and heavier while the top blocks are smaller and lighter. The Redi-rock blocks are available with different textures including:
Ledgestone – a random, stacked stone look
Cobblestone – a quarried stone aesthetic
Limestone – a natural split limestone texture
Kingstone – the scale of limestone with the relief of ledgestone
Smooth – a modern smooth texture with clean lines
Poured Concrete Retaining Walls
Poured concrete retaining walls are reinforced with rebar and provide a strong and long lasting retaining function. A concrete wall may have a veneer applied to provide a more natural look.
Concrete Block Retaining walls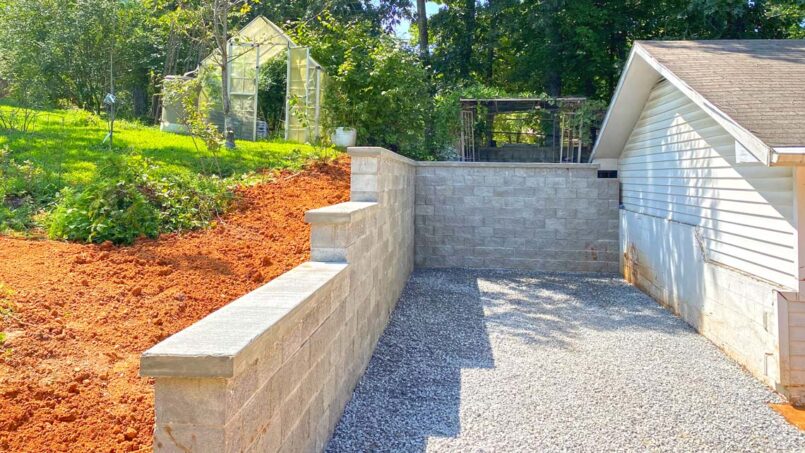 Block retaining walls are often used when the height varies with length. They can be built for higher strength by filling the hollow block cavities with concrete. A concrete block retaining wall can also be dressed with a stone veneer for a more natural look.
Treated Timber Retaining Walls
Timber retaining walls can be built quickly and in many different shapes and depths. When the retaining wall height is tall, cross timbers are used to anchor the wall so it performs its function well and has a longer life.