We help you choose the best foundation pad design for your shed or other structure – that fits your budget – and fits your property or backyard. In most cases, it's recommended that a wood floor structure rest's on a stone base pad. However, if you're looking for concrete to be your floor, check out our concrete foundation options.
Another important consideration is to make sure the foundation exactly matches the shape of your building. As an example, a gazebo, a cabana, or a pavilion may be octagonal, square, or rectangular. Buildings come in many sizes and shapes, and our attention to detail guarantees your foundation is exactly the right size and shape for your structure.
Then choose from Basic, Standard, or Signature stone foundation design which determines how the foundation is contained and installed.
When design is finished and we are ready to start, BedRock Siteworks brings your ground to a level grade. In some cases a retaining wall may be needed to extend or to level your site.
Basic Stone Base Foundation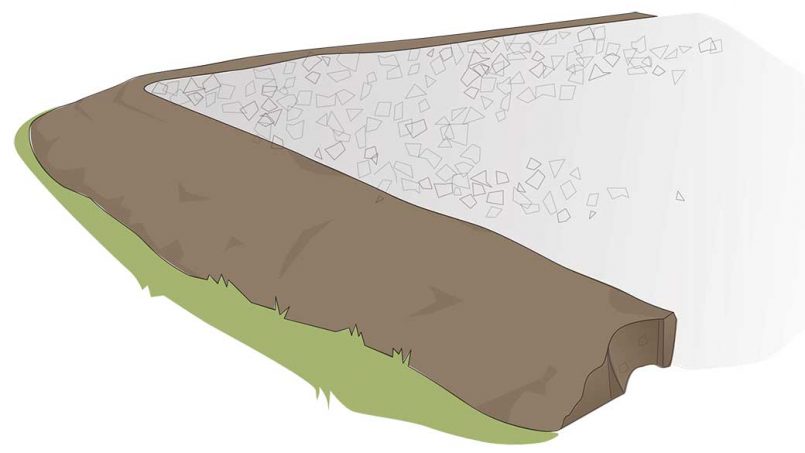 This concrete-free foundation provides a stable stone base pad for the least cost. An earthen berm is used to contain the drainage stone. The least expensive way to do the job, but this method can be susceptible to erosion and settling with the passage of seasons. The Basic stone base foundation does not include any additional drainage or structural features.
This type foundation may be appropriate in wooded areas and spaces where a structure is not frequently utilized.
Standard Stone Base Foundation
Our most popular stone base containment design includes a border of 6" X 6" pressure-treated wood secured with ½" X 24" steel rebar. This border keeps the stone in place and creates a distinct perimeter around the structure. Geotextile fabric is placed within the border to stabilize the stone base and also to prevent weed growth. Six inches of certified drain stone insures quick drainage and a dry floor so that your structure remains level and stable. This stone pad comes with a 5 year guarantee for any settling or drainage issues.
In most designs, the ground surrounding the foundation is brought level with the border lumber. This avoids including a step up to the surface of the foundation and provides easy access to the structure placed on the foundation.
Signature Stone Base Foundation
The Signature stone base foundation pad includes all of the features of the Standard (above) and in addition includes stainless steel corner braces and an enhanced drainage system. The stainless steel corner braces ensure that the foundation remains square and that the timbers do not pull apart over time. The timbers are secured together with 3/8" x 10" stainless steel structural screws. The Signature option has a 10-year guarantee.
Like the Standard pad, the Signature base is finished with ground level with the surface of the foundation to provide easiest access to your structure.